ActionAid Hands over Wheelchairs to Persons Living with Disabilities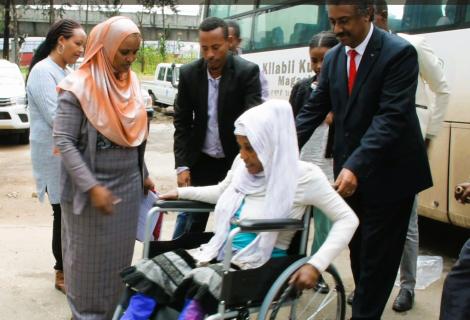 ActionAid Ethiopia handed over wheelchairs worth over one hundred ninety-two thousand Birr to eleven persons (ten female) having different forms of disabilities living in Mojo town (70k.m southeast Addis).
The donation was made after Ministry of Water and Energy requested ActionAid Ethiopia for the support while they were engaged in social service in the town by reconstructing the houses of people living in with disabilities.
State Minister of Ministry of Water and Energy, Abraha Adugna (Ph.D), during the hand over stated that as Ethiopia is among the countries with high population of persons with different disabilities, all social development actors are obliged to consider these part of the population in all their interventions for inclusive development, and he thanked ActionAid for the immediate proactive response to their requests with solidarity.
Representatives of ActionAid Ethiopia's management team Mr. Nigus and Mr. Dechassa on their part explained that inclusive development is the centrepiece in all activities ActionAid undertakes. They further mentioned that though Mojo town was not found in its programme implementation areas, the destitute situation of the rightsholders communicated to it by Ministry of Water and Energy convinced ActionAid Ethiopia's management team to take the immediate action.
Abeba Wugari was physically impaired at the age of two. Both her parents died of tuberculosis in her childhood. She lived thus far with the help of neighbours. Abeba used to have an old wheelchair that got broken. This made her unable to move out from her house. To make things worse, her hands became paralysed forcing her to leave her only bread winning skill- hair braiding. ''This wheelchair made me feel as if I were reborn because it serves me as legs. Sitting on it, observing my surrounding gives me pleasure and I would like to thank ActionAid for the support it gave me,'' Abeba said.